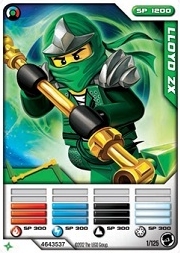 Lloyd Garmadon is the son of Lord Garmadon and Is the Green Ninja. He was trying to be evil and follow in his father's footsteps but he was brung to the Destiny's Bounty and was lectured by Sensei Wu. In episode 10, The Green Ninja it was revealed he was the Green ninja. He has a booster pack called 9552 Lloyd Garmadon.
As Lloyd
As Lloyd, Lloyd has a black hood, a yellow head, a black cape, black legs and a chest they has printed bone drawings ,a green 5 and a purple Ninja belt.
As Green Ninja
As the Green Ninja, Lloyd has a green ninja hood with a silver unremovable piece, has a green torso with a ninja belt (gray) darker green arms, black hands and green legs. His favorite weapon is the Super Bolt.