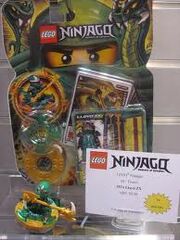 9574 Lloyd ZX is a spinner that will be released in 2012. It contains Lloyd ZX (the Green Ninja), The Super Bolt, a staff Similiar to Cole's, a katana, four battle cards, the Lloyd Zx Character Card, The spinner and the Green Spinner Crown. His spinner seems to show the four elements. Lloyd has the same elemental power as Sensei Wu and Garmadon. 300 fire 300 lightning 300 ice 300 earth. The character card in the backround is just a prototype.
Description
Edit
Note: Taken from BBC.com
Spin your way to victory against the forces of evil! Lloyd ZX is the legendary green ninja, destined to win the great battle between good and evil and bring peace once again to the land of Ninjago. But before he can fulfill his destiny, his fellow ninjas must help him master the art Spinjitzu and defeat the evil Serpentine snake tribes! Use the 4 battle cards included in the set to influence the outcome!
Includes: Lloyd ZX minifigure, gold spinner, green crown, transparent Lego lift brick, golden weapon, 2 regular weapons, character card and 4 battle cards. 23 pieces. Ages 6+.